Sobre LogicMonitor
En plena revolución de la información, la supervisión está en el centro de ella. Las empresas están pasando de preguntar "¿Qué pasó?" a predecir lo que está sucediendo, resolver problemas antes de que comiencen y usar datos para liberar oportunidades.
LogicMonitor se compromete a ampliar las posibilidades de las empresas sustentándolas con su tecnología. Después de todo, la supervisión no solo debería ayudar a las empresas a ver lo que está frente a ellas: debe crear nuevas formas para que crezcan.
Así es como se centran en su visión:
Actívalo.
Hoy en día, la supervisión hace que el mundo de los negocios siga girando. LogicMonitor supervisa de forma integral las infraestructuras, desde locales hasta aquellas en la nube. En cuestión de minutos, hace posible que las empresas desarrollen su tecnología, asegurando que los pasajeros de las aerolíneas no estén aislados debido a interrupciones del sistema, que los alimentos permanezcan a temperaturas seguras y que las ruedas giratorias no interrumpan tus programas favoritos.
Sube el volumen.
La supervisión debe hacer más que visualizar la información de hoy, debería abrir nuevas formas para que las empresas crezcan. Este software va más allá de lo esperado para capacitar a los clientes, buscando ser la plataforma de supervisión más extensible del mundo. Cuando los clientes pueden resolver problemas antes de que comiencen, pueden mover su enfoque del mantenimiento a la innovación.
Haz un viraje.
A medida que el inteligencia artificial y el aprendizaje automático pasan de promesas de ciencia ficción a realidades diarias, la tecnología permite a las empresas ver lo que está sucediendo antes de que suceda. Esta solución colabora estrechamente con los clientes para comprender sus riesgos y anticiparse a sus necesidades, brindando información que desbloquea su visión.
Prueba gratis
Suscripción
Disponible en los países siguientes
Australia, Canadá, Reino Unido, India, Estados Unidos
Prueba gratis
Suscripción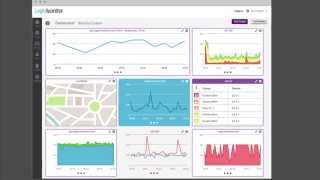 Funcionalidades totales de LogicMonitor: 70
@menciones
API
Actualizaciones en tiempo real
Alerta de límites
Alertas y notificaciones
Análisis de capacidades
Análisis de causa raíz
Análisis de reconocimiento de voz
Análisis de redes
Análisis de registros
Análisis de rendimiento
Análisis de tendencias
Análisis de vulnerabilidades
Búsqueda/filtro
Control/Acceso remoto
Controles o permisos de acceso
Creación de informes de tráfico web
Creación de informes de uso
Creación de informes en tiempo real
Creación de informes/análisis
Datos en tiempo real
De texto a voz
Detección de anomalías
Estimaciones
Gestión de SLA (Service Level Agreement)
Gestión de capacidades
Gestión de costes
Gestión de credenciales
Gestión de incidentes
Gestión de la asistencia técnica
Gestión de la conformidad
Gestión de parches
Gestión de problemas
Gestión de recursos de la red
Gestión de restauraciones
Gestión de varias plataformas en la nube
Gestor de línea de base
Herramientas de diagnóstico
Informes personalizables
Informes planificados y automatizados
Monitorización y gestión remota
Métricas de rendimiento
Notificaciones en tiempo real
Panel de comunicaciones
Panel de control personalizable
Portal de autoservicio
Previsión
Programación del mantenimiento
Protocolo simple de administración de red (SNMP)
Pruebas de disponibilidad
Recolección de registros
Registros de eventos
Registros del servidor
Seguimiento del comportamiento
Supervisión
Supervisión CPU
Supervisión FTP
Supervisión de ancho de banda
Supervisión de correo electrónico
Supervisión de la demanda
Supervisión de la dirección IP
Supervisión de máquinas virtuales
Supervisión de redes
Supervisión de servidores
Supervisión de suministros
Supervisión del servidor de correo
Supervisión del uso de internet
Supervisión en tiempo real
Varias fuentes de datos
Visualización de datos
Pulseway
#1 alternativa a LogicMonitor
Pulseway es la forma más fácil y eficiente de tomar el control de tu entorno de TI.
Splunk Enterprise
#2 alternativa a LogicMonitor
Splunk Enterprise es una plataforma basada en la nube y diseñada para ayudar a las empresas con la gestión del big data...
Kaseya VSA
#3 alternativa a LogicMonitor
Kaseya VSA es la solución integral que proporciona servicios de TI a gran escala, ya sea a un departamento de TI...
Sematext Cloud
#4 alternativa a LogicMonitor
Sematext Cloud is an all-in-one observability tool that helps businesses assess and gain key insights into the front...
Calificación general
(70)
---
¿Ya tienes LogicMonitor?
¡Ayuda a los compradores de software! Las opiniones sobre los productos son útiles para que el resto de los usuarios podamos tomar las decisiones acertadas.
¡Escribe una reseña!
Mostrando 5 opiniones de 70
Sector: Software informático
Tamaño de la empresa: 201-500 empleados
Fuente de la reseña
Calificación general
Relación calidad-precio

Facilidad de uso

Asistencia al cliente
LogicMonitor is a great choice!
Revisado el 3/2/2016
When we approached our monitoring project, we evaluated a number of different solutions. We'd been...
When we approached our monitoring project, we evaluated a number of different solutions. We'd been using Solarwinds for several years and we simply felt that it wasn't the right product for us. That isn't to say that Solarwinds isn't a good product! We used it significantly over the years but we needed something that fit us as an overwhelmed and understaffed IT Team better. We are a small company of about 250 employees and 5 offices across the US and many remote employees around the world. When we came upon LogicMonitor, it was clear that this was a different product and company. They were incredibly helpful during our evaluation and even allowed us to extend our trial period for longer than I am comfortable specifying (more embarrassing to me that our eval took so long). There are many factors that led us to choose LogicMonitor, but some of the biggest are: - Ease of Use: "Out of the box", they recognize and monitor so much of what we use, including the smaller vendors. If they don't recognize something, it is a fairly simple process to request that they add it to their software. Needless to say, this saves us a ton of time! In addition to recognizing the devices, they automatically add a set of monitors that they feel are the most important, but also give you the ability to easily disable what you aren't interested in or add additional monitors if they don't support something you wish to monitor. - SaaS: We knew we wanted something that could provide both internal and external monitoring, AND be available for our technicians, wherever they were. The lone drawback to their model is the number of internal servers required to monitor everything we wish to. For our main office, we needed to deploy a second server to complement the first because we were monitoring so much stuff. A very small price to pay for the ease of use and administration for the platform. - Price: Unlike many other vendors, LogicMonitor doesn't charge you per monitor, they only charge for the device. For example, in other products, a 48-port switch could use up 100+ monitoring licenses to monitor all ports and all of the critical switch functions. Logicmonitor only charges you 1 license to monitor the switch and you can have (I believe) an unlimited number of monitored items within that switch. For a smaller company like ours, cost is definitely a large factor and LogicMonitor was definitely a leader in this category. There are a lot of other factors that I could go into, but I'd rather not write a novel. Suffice to say that if you are in the market for a new monitoring solution, I HIGHLY recommend that you look into LogicMonitor. I'm confident that you will come away impressed and they will immediately become one of your top choices to implement!
Puntos a favor
Many of them mentioned above.
Puntos en contra
Not many, but the response time for requesting new device/vendor recognition could improve.
Sector: Automoción
Tamaño de la empresa: 1,001-5,000 empleados
Fuente de la reseña
Calificación general
Relación calidad-precio

Facilidad de uso

Asistencia al cliente
When Cloud Monitoring Makes Sense
Revisado el 15/2/2016
At this time I am on v.71 with Collectors at version 20. I began using LogicMonitor around 2 years...
At this time I am on v.71 with Collectors at version 20. I began using LogicMonitor around 2 years ago. It was one of the best "outsourcing" decisions we have made. Now have nearly 550 nodes in our environment and a countless number of stock and custom datasources we are alerting on utilizing a range of collection types including SNMP, WMI, Groovy, and Powershell.
We previously used OpManager and had considered SolarWinds (I used it in a previous enterprise and was very happy with it). In the end, there were a couple factors that lead us to LM and kept us there. First, we are a very lean shop, and the manpower cost of standing up a new monitoring platform along with maintaining yet another machine, while minimal, was going to take time and that was a consideration. Second, we had a lot of stuff we wanted to monitor on each server and a bunch of product owners we wanted to have the ability to monitor thier products, the way they measured that didn't work against us. Finally, we wanted a way to monitor both internally and externally since we ourselves are a SAAS provider. LM satisfied all three.
When we first came on board, they were reasonably new, and the turnaround time on custom datasources was minimal. I guess they are a victim of their own success, my one and only criticism is that now the turnaround on datasources is measured in months not hours. Otherwise, they are hitting on all cylinders. Their java collector is lightweight and can handle a good deal of throughput, I myself have between 100-150 nodes on my larger collectors with 1-minute collection on most datapoints. They have been in a positive development cycle over the past 18 months as they rolled out a new UI for not only for their App but their support site as well. I like how they did some hand holding for us "old timers" who had grown used to the utilitarian and direct legacy UI. They let us run that if we chose to, but introduced new dashboard and service elements in the new UI only, giving us more carrot than stick to make the leap. They are continuously improving their interface, especially their dashboards, giving us the ability to embed third party graphs (in our case some New Relic APM elements) into their layout. I am hoping they will allow us to soon provide a way to embed our LM dashboards into other iframes or share out directly. As a whole, the product is barely recognizable as it was when we came on board, yet every bit as functional with certain elements such as bulk alert tuning and multi-instance management providing even more.
They have released a native iPhone application, it is good for alerting, however they have a good way to go to make it more usable overall. If they do to it what they have done to the web portal, it will be amazing. As it stands, our entire department has the application loaded and peek at it throughout our off hours, acknowledging alerts that we may not have seen yet because of the way our escalation rules have been written. It gives us some advance notice to spot a trend from other departments before it lands on our laps. The escalation rules and who they go to are fully tweakable as well as how users get alerted (email, sms, phone call). We have even begun alerting automation scripts to fire off on certain alert types. They have listened to their customers and continue to act on our needs. When renewals come up, there is no debate that we will keep them. They have become an embedded resource and so long as they keep performing at this level they will remain there.
Puntos a favor
Their drive to improve the product! It's hands down the nicest evolution of a product over a short span I have seen. Their product is continually getting enhanced, new datasources are being added to the library, new features into their mobile app and new content in their training sessions. I spoke to many of their pro's in the review, but their continuous improvement cycle is truly impressive.
I also want to give a special shout-out to the help-desk for helping me out of many datasource woes.
Puntos en contra
It may not be a major part of their value proposition to new customers, but datasource creation was part of the pitch for us old timers. In the beginning I loved how quickly their folks could crank out an oddball datasource for me. Now don't get me wrong, their help-desk definitely hits the mark for fixing some of my minor mistakes in datasource creation, but when I need something deep I got to wait months. In case LM is looking at this, I'm specifically awaiting a google analytic integration which I saw advertised on your site but didn't exist (to your credit, thanks for taking it down after we found that out.)
Calificación general
Facilidad de uso

Asistencia al cliente
SPS Commerce User Review
Revisado el 26/2/2014
Hello, I will try to bullet out a list of pros and cons below. My overall impression of Logic...
Hello, I will try to bullet out a list of pros and cons below. My overall impression of Logic Monitor is a positive one. I have been happy with the scale at which we are able to adopt the systems. In itself Logic Monitor is a great service but I'd like to see more invested to integrate with other popular monitoring services like PagerDuty, etc. A few minor inefficiencies in the UI, but nothing major for us. . and by the way your support is great!
Pros
Exceptionally consistent! It's easy to be confident that all our alerts across the board are consistent unless set otherwise manually.
-Flexible. I think the tool has just the right level of flexibility to it so that we can organize alerts and hosts in a manner that effectively aligns with our business.
Visibility. Implementing the tool right as really increased our team's visibility to our overall health and performance. It's been a great win.
Cons
Pagerduty integration. There is a lot that we use Logic Monitor for but it will never be our ONLY monitoring tool, as a result we need a service like pager duty as a central hub to manage and maintain our alert streams. It is incredibly cumbersome today to not have resolutions close out alerts in PagerDuty and also to not have alerts that are acknowledged in pager duty acknowledge in Logic Monitor. This is the most important con to us right now.
Transparency. There are some nice features that help you see the various alerts whether it's the alerts tab counters (that show on the main page) or the way hosts highlight when they have alerts associated. I would like to see more detail on those features, for example if there are 13 critical alerts, it would be nice to know how many are already Ack'd without clicking into the alerts tab and searching for those alerts. It would also be ideal if you could highlight the "hosts" on the hosts tab with the color of severity of their alerts. We spend a lot of time in the host view and being able to see a host highlighted yellow, orange, or red would be helpful to faster decision making.
The alerts dashboard is not clear for hosts that are in SDT. I would actually prefer not to see those hosts in the alerts totals on the alerts tab, or potentially make that configurable. It's confusing to go to that tab to see alerts for hosts that are in SDT and don't actually need immediate response, those and Ack'd errors could almost be their own tab.
Thanks for a great service and continued product development!
Sector: Bienes de consumo
Tamaño de la empresa: 1,001-5,000 empleados
Software usado

A diario

durante

Más de un año

Fuente de la reseña
Calificación general
Relación calidad-precio

Facilidad de uso

Asistencia al cliente

Probabilidad de recomendación

9.0

/10
Fantastic Monitoring Tool
Revisado el 4/12/2018
We've been a customer for over a year and have had nothing but a positive experience. We run lean...
We've been a customer for over a year and have had nothing but a positive experience. We run lean and needed something that wouldn't require a lot of our time and energy to keep running. It also made sense to get something that was cloud based so that if we have our own infrastructure problems it won't necessarily knock out the monitoring that's alerting us on those issues. Chat support is good and available 24/7 and we have a dedicated customer success team contact who can assist with any escalations, questions, or concerns we have.
Puntos a favor
It's relatively easy to use while at the same time offering tons of features that you can use to optimize and proactively solve problems. There's a low barrier to entry to start gaining actionable insights into your environment and minimal tweaking is needed. The alerting customization is excellent and it's easy to make sure the correct person or team has access to the alerts they need with easy escalation to a text or phone call if a critical alert isn't acknowledged.
Puntos en contra
It monitors all sorts of metrics for different services, but sometimes it's difficult to determine what a metric is actually telling us.
The mobile app is just ok. It is good for quickly acknowledging alerts, but not much else. We have different teams that only need access to certain devices, but the app shows everything. Push notifications would be nice too!
Sector: Software informático
Tamaño de la empresa: 10,000+ empleados
Software usado

A diario

durante

6-12 meses

Fuente de la reseña
Calificación general
Relación calidad-precio

Facilidad de uso

Asistencia al cliente

Probabilidad de recomendación

9.0

/10
Excellent solution to monitor the performance of applications.
Revisado el 30/5/2019
A software that is undoubtedly efficient to carry out the monitoring of applications and can also...
A software that is undoubtedly efficient to carry out the monitoring of applications and can also monitor not only the physical infrastructure but also the virtual one, in this way you are aware of any inconvenience or malfunction to be able to solve it in the shortest time possible or prevent them in a way that leads to much larger problems.
Puntos a favor
A software with a very simple and intuitive interface so it is easy to use, is ideal to carry out the monitoring of the performance of the activity of each business application, has metrics that allow it to be very simple to follow up on this process, In addition to its support team is really efficient because if you have any questions with the functions provided by this software you can go to them and very friendly and colloquial lend their help so that you have the correct operation, something else What is worth mentioning and what is really an advantage is that if you notice any problem or malfunction issues alerts that allow you to solve the problem quickly to avoid further damage or loss of time.
Puntos en contra
For users without knowledge in the field can be complicated the use of such software, in addition to still has features to improve as provide much more detailed reports to have better knowledge of a problem.
Preguntas frecuentes sobre LogicMonitor
He aquí algunas preguntas frecuentes sobre LogicMonitor.
P. ¿Qué tipo de planes de precios ofrece LogicMonitor?
LogicMonitor ofrece los siguientes planes de precios:
A partir de:
Modelo de precios: Suscripción
Prueba gratis: Disponible
P. ¿Cuáles son las características principales de LogicMonitor?
No tenemos información sobre las características de LogicMonitor
P. ¿Quiénes son los usuarios habituales de LogicMonitor?
Los clientes habituales de LogicMonitor son:
2-10, 11-50, 51-200, 201-500, 501-1,000, 1,001+
P. ¿Qué idiomas admite LogicMonitor?
LogicMonitor admite los siguientes idiomas:
inglés
P. ¿LogicMonitor es compatible con dispositivos móviles?
LogicMonitor admite los siguientes dispositivos:
P. ¿Con qué otras aplicaciones se integra LogicMonitor?
LogicMonitor se integra con las siguientes aplicaciones:
Autotask PSA, ConnectWise Manage, HipChat, PagerDuty, ServiceNow, Slack, Twilio Voice
P. ¿Qué tipo de asistencia ofrece LogicMonitor?
LogicMonitor ofrece las siguientes opciones de asistencia:
E-mail/Help Desk, Preguntas frecuentes/foro, Base de conocimientos, Asistencia telefónica, 24/7 (asistencia directa), Chat
Categorías relacionadas
Ver todas las categorías de software encontradas para LogicMonitor.