Información general sobre NetSuite
¿Qué es NetSuite?
NetSuite es el paquete de software de gestión empresarial en la nube líder en el mundo, creado específicamente para las necesidades de las empresas medianas y con un fuerte crecimiento. NetSuite ayuda a automatizar operaciones, simplificar procesos, disminuir costes y complejidad de TI y mejorar la visibilidad en tiempo real en toda la empresa al proporcionar un software completo basado en la web para todos los procesos empresariales centrales, incluyendo contabilidad/planificación de recursos empresariales (ERP, por sus siglas en inglés), gestión de inventarios, gestión de relaciones con los clientes (CRM, por sus siglas en inglés), automatización de servicios profesionales (PSA, por sus siglas en inglés) y comercio electrónico.
NetSuite es la solución ERP en la nube más implementada del mundo, utilizada por más de 40 000 organizaciones en más de 160 países. NetSuite ERP ofrece una solución moderna y escalable para ejecutar todas las operaciones de back-office y procesos empresariales financieros clave en la nube. Desde capacidades integrales de administración financiera, incluidas soluciones sofisticadas de gestión de ingresos y facturación, hasta soluciones de inventario, cadena de suministro y gestión de almacenes, NetSuite capacita a empresas de todos los tamaños y todos los sectores de cualquier parte del mundo para desatar la innovación y el crecimiento. La inteligencia comercial incorporada con creación de informes y analíticas en tiempo real equipa a las organizaciones con una única versión de la verdad e inicia una toma de decisiones mejor y más rápida.
Miles de organizaciones de diversos sectores utilizan la solución de gestión financiera de NetSuite para administrar sus necesidades de contabilidad. Este software acelera la liquidación financiera, proporciona una gestión sólida de los gastos, ofrece una gestión de ingresos optimizada y auditable y garantiza una visibilidad completa en tiempo real del rendimiento financiero de la empresa.
Información general sobre NetSuite
Precio
A partir de
USD 499.00/mes
Opciones de precios
---
Funciones de NetSuite
Disponible en los países siguientes
Estados Unidos, Canadá, Reino Unido, Australia, China
y otros 5
, India, Japón, Alemania, Brasil, México
Idiomas admitidos
Alemán, Checo, Chino (simplificado), Chino (tradicional), Coreano
y otros 15
, Danés, Español, Francés, Indonesio, Inglés, Italiano, Japonés, Neerlandés, Polaco, Portugués, Ruso, Sueco, Tailandés, Taiwanés, Turco
Medios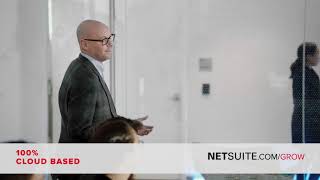 Opiniones de NetSuite
Opiniones de NetSuite
Relación calidad-precio
3.7
Asistencia al cliente
3.6
81%
Un ha recomendado esta aplicación
Help us at a time we were growing the company, so right now we are more efficient and have real time data because of Netsuite.
---
Great experience overall. Time to implement took 6 months, but could have completed in 4. We waited longer to get system configured to meet more of our needs. Have maintained our subscription since 2013 and really like the ease of configuration and always being on the latest version and can take advantage of improvements without added cost for the most part. The business intelligence and reporting is excellent and it is easy to expand the use of the software and add new companies as business grows.
---
Netsuite was chosen by our company around 9 months ago and has been in use since January 2015. Implementation was long process and was expensive. Costs include the purchase of main licence, an expensive per-person licence, paying a consulting firm to run the implementation project and having a dedicated in-house employee as "admin" to support the other users.
Netsuite has brought some great changes to our company and improved our record keeping hugely. It has also brought transparency to many of the processes and highlighted bottlenecks.
There are many downsides however, we have run into a plethora of technical problems with logic and programming along the way, while error messages abound (much to the annoyance and over-work of the consultant's team). All of the glitches have been worked out and customer service from the NS themselves has been extremely fast and professional.
Adding to the downsides, Netsuite is probably the LEAST intuitive system I have used since the 90s. It really seems like it is stuck in the past. There are hardly any icons, no drag and drop and navigation is inconsistent. Additionally, as a general manager, I need to extract information and data quickly and easily, but I cannot. Every time I want to extract data I have to go to our in-house admin for her to "write a search" in a logic/language that took her months to learn. Nobody else has time to learn that, so nobody else can do it. To my knowledge, NS has poor graphing capabilities and is very rigid in that I cannot easily change the way data is displayed once it is graphed. Usually, if I want data and I have not got time to wait for the admin to write the search pattern for me, I just export a large amount of data with a predefined/standard search and filter it and graph it with Excel - but this always begs the question, why are we paying through the nose for a program (NS) that is so difficult to use that it forces me to use another program (Excel) to make up for its inadequacies?
I could go on with the downsides of how unusable it is from a manger's point of view - there is a lot to say, but I think you get the picture.
The biggest downfall of Netsuite for me is that it is so hard to use that staff really do not want to use it. This is particularly evident in the sales department. They will only really use it for what they really have to use it for: making quotes, so we lose out. Customer data does not get sufficiently recorded, project details are lacking, contacts are hard to look up, customer account history is never recorded (we can't even find the field to put that in). Other systems we used before, e.g. Zoho CRM, Pipedrive and even Excel, are easy to use and therefore get used by the staff. A system such as Netsuite might have a beautifully coded backend, but if it discourages use through extreme user-unfriendliness, it becomes an almost useless system.
---
NetSuite has served as well as a full-feature ERP system. We can manage many aspects of our business all in one system including managing projects, recording timesheets, order-to-cash, procure-to-pay, internal case support, CRM, and more.
I feel that NetSuite is much easier to learn and more intuitive than other systems, but it still requires time to set the system up for a company's individual needs. NetSuite is set up for wide-ranging customizations, but in many cases these customizations are necessary to get the full benefit of the program. Our time investments in NetSuite have paid off, but the program definitely requires a lot of love to adapt to the changing needs of the business.
---
The overall experience has been positive. Support is very good.
---
Compara con las alternativas según la valoración global
Compara las alternativas
Compara con las alternativas según las recomendaciones de los usuarios
Compara las alternativas
Precios de NetSuite
Precios de NetSuite
A partir de
USD 499.00/mes
Compara las alternativas según la relación calidad-precio
Compara las alternativas
Funciones de NetSuite
Funciones de NetSuite
Almacenamiento de documentos
Creación de informes en tiempo real
Creación de informes personalizables
Creación de informes y estadísticas
Gestión de flujos de trabajo
Gestión de la conformidad
Importación y exportación de datos
Notificaciones automáticas
Seguimiento de actividades
Seguimiento de inventario
Compara con las alternativas según la valoración de características
Compara las alternativas
Categorías
Preguntas frecuentes sobre NetSuite
Preguntas frecuentes sobre NetSuite
He aquí algunas preguntas frecuentes sobre NetSuite.
P. ¿Qué tipo de planes de precios ofrece NetSuite?
NetSuite ofrece los siguientes planes de precios:
A partir de: USD 499.00/mes
Modelo de precios: Suscripción
Prueba gratis: No disponible
P. ¿Cuáles son las características principales de NetSuite?
No tenemos información sobre las características de NetSuite
P. ¿Quiénes son los usuarios habituales de NetSuite?
Los clientes habituales de NetSuite son:
Empresas pequeñas, Empresas Grandes, Empresas medianas
P. ¿Qué idiomas admite NetSuite?
NetSuite admite los siguientes idiomas:
Alemán, Checo, Chino (simplificado), Chino (tradicional), Coreano, Danés, Español, Francés, Indonesio, Inglés, Italiano, Japonés, Neerlandés, Polaco, Portugués, Ruso, Sueco, Tailandés, Taiwanés, Turco
P. ¿NetSuite es compatible con dispositivos móviles?
NetSuite admite los siguientes dispositivos:
Android, iPhone, iPad
P. ¿Con qué otras aplicaciones se integra NetSuite?
NetSuite se integra con las siguientes aplicaciones:
BambooHR, Bill.com, Changepoint PPM, EasyEvent, InterWeave Smart Solutions, M-Files, SnapLogic, TriNet Expense, Yonyx, Zuora
P. ¿Qué tipo de asistencia ofrece NetSuite?
NetSuite ofrece las siguientes opciones de asistencia:
Base de conocimientos, Asistencia en línea, Asistencia telefónica, Tutoriales en vídeo, Preguntas frecuentes, Foro