Información general sobre Buildertrend
¿Qué es Buildertrend?
Buildertrend es un sistema de gestión de la construcción para constructores de casas, remodeladores y contratistas generales. El sistema proporciona acceso en tiempo real en horario ininterrumpido a información de programación, órdenes de cambio, documentos, fotos, gestión de garantías, selecciones de compradores de casas y mucho más. Combina la programación de proyectos, y la gestión de proyectos, clientes y servicios en un único paquete. Como plataforma basada en la web, se puede acceder a este sistema desde cualquier lugar con una computadora o dispositivo móvil.
Buildertrend proporciona herramientas de preventa, incluido un sistema CRM integrado y ofertas y propuestas rápidas. Las herramientas de gestión de proyectos incluyen programación, presupuestos y hojas de tiempo. Las herramientas de gestión de clientes incluyen la gestión de cambios y selección, solicitudes de garantía y procesamiento de los pagos.
Este sistema también se integra con otras soluciones valiosas, como QuickBooks y Xero.
Buildertrend proporciona a cada empresa un gerente de cuentas para brindar capacitación y asistencia ilimitados. También se incluyen seminarios web diarios, la comunidad de aprendizaje de Buildertrend, una sección de ayuda en horario ininterrumpido y la universidad Buildertrend.
Información general sobre Buildertrend
Precio
A partir de
USD 299.00/mes
Opciones de precios
---
Funciones de Buildertrend
Disponible en los países siguientes
Estados Unidos, Canadá, Reino Unido, Australia, China
y otros 3
, India, Japón, Alemania
Medios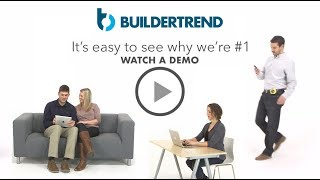 Opiniones de Buildertrend
Opiniones de Buildertrend
Relación calidad-precio
4.3
Asistencia al cliente
4.7
94%
Un ha recomendado esta aplicación
I used other CRMs in the past, but love using BuilderTrend. Its simple setup has allowed me to keep track of my customers as well as provide better follow up to my clients. I just utilize the Sales section of BuilderTrend, but it has improved my client relationships and increased my overall sales.
---
Very good.
If youre going to integrate BT make sure you take it on a section at a time. Dont try and open up too many sections to your team
These guys have given a lot of thought to the software and it forms an amazing backbone for any client facing construction business. We couldnt last the day without it.
---
There training, on boarding and customer support is top notch! When I first started using the software I really liked it but once we got tons of leads and jobs going it became almost unmanageable.
---
We are a boutique custom home builder; each project is unique and personalized. Although I was not involved in the selection of this software, my understanding is that we wanted a program that could be accessed by all the parties involved, handle the scheduling and move us away from paper checklists - ultimately allowing all users to be both informed of changes and to be able to plan for future events without having to directly communicate with each person.
As far as scheduling goes this system has failed. It has caused more time consuming questions. My complaint is that you can only link item to item by a (or a couple) predecessor(s) that, ultimately, the program struggles with which item is next in the list if a few of them share the same linked task. Also in a best case scenario, this scheduled list is how you build a house - but in most cases something, whether it be trade related or whether related or inspection related, cause a task to be delayed but the other ones would continue on schedule however the program has linked the start date to the the delayed task and now the whole calender is messed up. Or perhaps the exterior of the house generally starts after framing and roofing but maybe a winter storm makes this impossible so you continue the interior for weeks. Then you try and adjust backwards and because your best case scenario template stated it should commence at framing completion and you delayed that. Thus your left with a domino affect of wrong dates. and a series of emails sent to vendors informing them of the delay that really didn't apply to them. So they change schedules and you are left with no trades to do the interior work that in your mind could and should be fine.
I also find that the program doesn't offer enough flexibility in the selection section. It allows me to upload a previously created document to be stored that a homeowner could then log on and download. They then fill out and can't re-upload this document, so they are forced to fax or scan and email back to us. This is neither time effective nor practical. Perhaps it would be better if we were able to create a checklist that was interactive in this section, similar to the change orders where we type out the change and the client could update decisions. In our company we don't limit our clients to three choices of floor plans and two cabinet doors and 4 granite selections, they are free to choose anything they can dream of. As a result we cannot load a document that would apply to all builds.
However, I believe the change orders tab is well thought out, easy to use and provides all the options to make it a valuable asset. The warranty section does a great job of tracking and notifying and saving time and assuring that service and warranty items are handled and accepted. The daily log and messaging capabilities that allow us to keep a record of notes or messages in one area logged by date and job site is extremely valuable and a good system.
Furthermore, the software as a whole is easy to learn, has a logical and simple layout so even those who are not computer savvy can fumble through without creating errors and won't be too intimidated by the complexity of the software to attempt to use it.
Finally, the technical support and training provided is always quick to help resolve an issue or aid in a question. New training is scheduled in a very quick time frame for free and is tailored to the person that requires it. This is handled exceptionally well in a time when often companies forget you exist once the purchase is complete.
So, we have decided that we will use BuilderTrend for those things that they excel at and don't use it as a scheduling tool.
---
We've always had a great experience with builder trend. If there are any issues help is a few clicks away and usually gets sorted our quite quickly. As mentioned earlier its a shame the pricing is going up as much as it is.
---
Compara con las alternativas según la valoración global
Compara las alternativas
Compara con las alternativas según las recomendaciones de los usuarios
Compara las alternativas
Precios de Buildertrend
Precios de Buildertrend
A partir de
USD 299.00/mes
Compara las alternativas según la relación calidad-precio
Compara las alternativas
Funciones de Buildertrend
Funciones de Buildertrend
Almacenamiento de documentos
Creación de informes y estadísticas
Gestión de subcontratistas
Gestión de órdenes de cambio
Herramientas de colaboración
Importación y exportación de datos
Notificaciones automáticas
Seguimiento de actividades
Compara con las alternativas según la valoración de características
Compara las alternativas
Categorías
Preguntas frecuentes sobre Buildertrend
Preguntas frecuentes sobre Buildertrend
He aquí algunas preguntas frecuentes sobre Buildertrend.
P. ¿Qué tipo de planes de precios ofrece Buildertrend?
Buildertrend ofrece los siguientes planes de precios:
A partir de: USD 299.00/mes
Modelo de precios: Suscripción
Prueba gratis: Disponible
P. ¿Cuáles son las características principales de Buildertrend?
No tenemos información sobre las características de Buildertrend
P. ¿Quiénes son los usuarios habituales de Buildertrend?
Los clientes habituales de Buildertrend son:
Empresas pequeñas, Empresas Grandes, Trabajadores autónomos, Empresas medianas
P. ¿Qué idiomas admite Buildertrend?
Buildertrend admite los siguientes idiomas:
Inglés
P. ¿Buildertrend es compatible con dispositivos móviles?
Buildertrend admite los siguientes dispositivos:
Android, iPhone, iPad
P. ¿Con qué otras aplicaciones se integra Buildertrend?
Buildertrend se integra con las siguientes aplicaciones:
ProEst, QuickBooks Online, QuickBooks Online Advanced, Ryvit, STACK, Square Takeoff, Twitter, Wordpress, Xero, Xero
P. ¿Qué tipo de asistencia ofrece Buildertrend?
Buildertrend ofrece las siguientes opciones de asistencia:
Preguntas frecuentes, Foro, Tutoriales en vídeo, Asistencia en línea, Asistencia telefónica, Base de conocimientos