Información general sobre Rocket.Chat
¿Qué es Rocket.Chat?
Rocket.Chat es una plataforma de comunicación y colaboración en equipo, de código abierto, con chat en vivo, conferencias de video y audio, intercambio de archivos, traducción de mensajes y más. Al estar diseñada para ayudar a organizaciones completas, equipos o individuos a comunicarse entre ellos en un entorno grupal o uno a uno, Rocket.Chat permite que los usuarios creen canales y conversaciones para la colaboración.
Accesible desde cualquier dispositivo con acceso a internet, lo que incluye equipos Windows, Mac y dispositivos móviles o tablets con las aplicaciones móviles nativas de iOS y Android, Rocket.Chat permite a los usuarios colaborar y comunicarse donde quiera que estén. La naturaleza de código abierto de Rocket.Chat se traduce en que los usuarios pueden unirse a la comunidad y desarrollar sus propias funciones, complementos, temas e integraciones personalizados para producir una solución que se adapte a sus necesidades comerciales.
Se pueden crear canales personalizados para facilitar las conversaciones grupales o se pueden configurar canales privados para llevar a cabo chats uno a uno cifrados; además, dentro de los canales, los usuarios pueden compartir documentos, enviar mensajes de voz, configurar llamadas de conferencia de video o audio, compartir pantallas, vincular vistas previas y más. Se puede utilizar el aprendizaje automático para traducir conversaciones automáticamente entre usuarios, con más de 37 idiomas disponibles.
Los equipos o las empresas de trato con el cliente pueden usar Rocket.Chat para brindar asistencia al cliente en forma de widget de chat en vivo incrustado en su sitio web comercial. Los usuarios pueden derivar y responder a las solicitudes de los clientes dentro de la plataforma Rocket.Chat para proporcionar un servicio de help desk o convertir clientes potenciales.
Información general sobre Rocket.Chat
---
Funciones de Rocket.Chat
Disponible en los países siguientes
Estados Unidos, Canadá, Reino Unido, Australia, China
y otros 5
, India, Japón, Alemania, Brasil, México
Idiomas admitidos
Alemán, Inglés, Portugués
Medios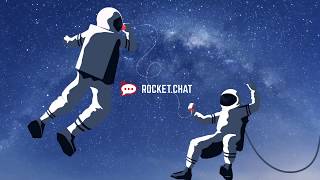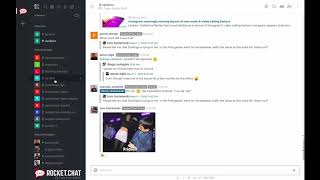 Opiniones de Rocket.Chat
Opiniones de Rocket.Chat
Relación calidad-precio
4.4
Asistencia al cliente
4.1
85%
Un ha recomendado esta aplicación
Overall I have been using Rocket Chat for over a year now and it's been a great tool for collaboration and communication internally.
---
Very satisfied . I have used Slack, Teamwork Chat before, but Rocket Chat is very economical to me ( free- minus the VPS cost). ANd it has everything we need.
---
I like it, will need to see how my users experiences are. This was easy to deploy but customizing it was a learning curve but with a little research, figured out how to do it.
Half my org uses MS TEAMS and comparting it to Rocket.Chat has me pretty amazed how feature rich rocket chat really is.
Make sure if you want video chat capability to enable JITSI in the server admin console. One but I found was embedded video chat window doesn't display users webcam but if I detach that, webcam is displayed.
---
Rocket.Chat is an overall-nice & free alternative to other enterprise messaging tools.
A few words about setting it up:
- The server runs on-premises, so all chat data currently resides in our own infrastructure - this was also one of the reasons we chose this.
- Secondly it supports LDAP, so this played well with our Active Directory accounts.
- Voice calling requires additional setup, which we decided to skip.
- Mimetypes for supported file attachments need to be configured by hand, one-by-one
And about usability: first of all, it does lack some nice-to-haves here and there:
- It cannot be integrated with SharePoint, so there are no status updates when going in a meeting.
- Since the desktop client is an Electron app, notifications are a bit lacking; these aren't persistent and besides showing a small blip in the system tray icon, you can't really tell whether there are any new messages.
- Also due to the client being an Electron app, it cannot support systemwide shortcuts
- It lacks the "threading discussion" that you see in other chat apps.
However, all basic features are in place. Pasting images and links gives you a nice preview and text formatting is simple and works as expected.
Also, it has a nice Off-The-Record mode where messages are not persisted.
And finally, features are still being developed so new features are added constantly.
---
We're using it just within the Systems department, and I like that it's installed locally and is completely controlled by us. We use it daily for quick messages between systems techs that don't need to be on our cloud messaging platform.
---
Compara con las alternativas según la valoración global
Compara las alternativas
Compara con las alternativas según las recomendaciones de los usuarios
Compara las alternativas
Precios de Rocket.Chat
Compara las alternativas según la relación calidad-precio
Compara las alternativas
Funciones de Rocket.Chat
Funciones de Rocket.Chat
Almacenamiento de documentos
Creación de informes y estadísticas
Creación de marca personalizable
Espacio de trabajo colaborativo
Funcionalidad de búsqueda
Gestión de flujos de trabajo
Herramientas de colaboración
Importación y exportación de datos
Interfaz para arrastrar y soltar
Notificaciones automáticas
Seguimiento de actividades
Compara con las alternativas según la valoración de características
Compara las alternativas
Categorías
Preguntas frecuentes sobre Rocket.Chat
Preguntas frecuentes sobre Rocket.Chat
He aquí algunas preguntas frecuentes sobre Rocket.Chat.
P. ¿Qué tipo de planes de precios ofrece Rocket.Chat?
Rocket.Chat ofrece los siguientes planes de precios:
A partir de: USD 2.00/mes
Modelo de precios: Suscripción, Código abierto
Prueba gratis: Disponible
P. ¿Cuáles son las características principales de Rocket.Chat?
No tenemos información sobre las características de Rocket.Chat
P. ¿Quiénes son los usuarios habituales de Rocket.Chat?
Los clientes habituales de Rocket.Chat son:
Empresas pequeñas, Empresas Grandes, Administraciones públicas, Sin ánimo de lucro, Empresas medianas
P. ¿Qué idiomas admite Rocket.Chat?
Rocket.Chat admite los siguientes idiomas:
Alemán, Inglés, Portugués
P. ¿Rocket.Chat es compatible con dispositivos móviles?
Rocket.Chat admite los siguientes dispositivos:
Android, iPhone, iPad
P. ¿Con qué otras aplicaciones se integra Rocket.Chat?
Rocket.Chat se integra con las siguientes aplicaciones:
Atlassian Confluence, Claromentis, Cognito Forms, Crashtest Security, FileCloud, Flow.ai, Freedcamp, Jira, Nextcloud, Univention Corporate Server
P. ¿Qué tipo de asistencia ofrece Rocket.Chat?
Rocket.Chat ofrece las siguientes opciones de asistencia:
Asistencia telefónica, Asistencia en línea, Base de conocimientos