Información general sobre TimeTap
¿Qué es TimeTap?
TimeTap es un software de programación de citas online para pequeñas y medianas empresas y profesionales independientes que gestionan muchas citas y reservas mensualmente. La solución es versátil para su uso en casi cualquier sector. Ayuda a acabar con las llamadas perdidas y las ausencias permitiendo que los clientes reserven y gestionen sus propias citas online.
Las empresas basadas en citas pueden recurrir a un enfoque centrado en el cliente gestionando sus citas con los calendarios y listas de TimeTap. Los usuarios pueden comprobarlos y gestionar su tiempo fácilmente. Tanto el personal como los clientes pueden automatizar su programación y reservas. Las empresas pueden programar un número ilimitado de citas cada mes y crear campos personalizados de clientes para obtener la información necesaria para la reserva.
Los calendarios flexibles permiten a los usuarios ajustar sus horarios en una vista personalizada. Las listas ayudan a categorizar las citas como completadas, canceladas o ausentes. Los correos electrónicos automatizados confirman, recuerdan y supervisan las citas de los clientes. Permite configurar las preferencias de entrega. TimeTap incluye opciones de listas de espera, múltiples calendarios de personal y reservas de personal al que dirigir clientes dedicados.
Las empresas pueden copiar y pegar un código personalizado para incrustar el programador en su sitio web o en su perfil de redes sociales. La aplicación móvil de TimeTap permite a los usuarios programar citas con los clientes, verificar la disponibilidad diaria y más, en cualquier momento y en cualquier lugar. TimeTap ayuda a que los clientes estén cualificados para las citas formulando preguntas de selección y cargando de forma segura archivos y documentos de clientes en la nube.
Información general sobre TimeTap
Precio
A partir de
USD 19.95/mes
Opciones de precios
---
Funciones de TimeTap
Disponible en los países siguientes
Estados Unidos
Medios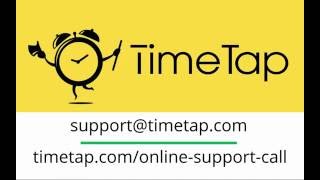 Opiniones de TimeTap
Opiniones de TimeTap
Relación calidad-precio
4.4
Asistencia al cliente
4.6
89%
Un ha recomendado esta aplicación
Because of this software, we are able to execute the vision of our social enterprise to fight the opioid crisis without the prohibitively costly overhead associated with having human schedulers & administrators. We would have had to raise a much higher fundraising target in order to be able to run operations if it weren't for the flexibility and ease of use we found in TimeTap.
---
Overall, I'm pleased with the results. Because it's not super-slick, my clients often call or text me instead of using it for booking, but on the back-end, I rely on it to organize my appointments, invoicing and online payments.
---
I don't feel having customers schedule a time to have a very personal service like Bike Fitting works with this application. Getting your bike tuned up makes more sense. Imagine trying to schedule a doctor appointment with a sore arm. Without some questions it could be a pulled muscle or bruise... or a heart attack. This assumes the customer knows what service will suit their needs. Often the customer chooses the least expensive option.
---
I am more productive using Time Tap. I set the times I am available; the types of interactions clients may choose from and then give them control of when they set up our sessions.
This frees me to work on other projects, knowing that my clients have a clean, professional looking way to schedule time with me.
---
Compara con las alternativas según la valoración global
Compara las alternativas
Compara con las alternativas según las recomendaciones de los usuarios
Compara las alternativas
Precios de TimeTap
Precios de TimeTap
A partir de
USD 19.95/mes
Compara las alternativas según la relación calidad-precio
Compara las alternativas
Funciones de TimeTap
Funciones de TimeTap
Base de datos de clientes
Creación de informes personalizables
Creación de informes y estadísticas
Creación de marca personalizable
Importación y exportación de datos
Integración de correo electrónico
Integración de redes sociales
Notificaciones automáticas
Seguimiento de actividades
Compara con las alternativas según la valoración de características
Compara las alternativas
Categorías
Preguntas frecuentes sobre TimeTap
Preguntas frecuentes sobre TimeTap
He aquí algunas preguntas frecuentes sobre TimeTap.
P. ¿Qué tipo de planes de precios ofrece TimeTap?
TimeTap ofrece los siguientes planes de precios:
A partir de: USD 19.95/mes
Modelo de precios: Gratis, Suscripción
Prueba gratis: Disponible
P. ¿Cuáles son las características principales de TimeTap?
No tenemos información sobre las características de TimeTap
P. ¿Quiénes son los usuarios habituales de TimeTap?
Los clientes habituales de TimeTap son:
Empresas pequeñas, Empresas medianas
P. ¿Qué idiomas admite TimeTap?
TimeTap admite los siguientes idiomas:
Inglés
P. ¿TimeTap es compatible con dispositivos móviles?
TimeTap admite los siguientes dispositivos:
Android, iPhone, iPad
P. ¿Con qué otras aplicaciones se integra TimeTap?
TimeTap se integra con las siguientes aplicaciones:
Google Calendar
P. ¿Qué tipo de asistencia ofrece TimeTap?
TimeTap ofrece las siguientes opciones de asistencia:
Asistencia en línea, Asistencia telefónica, Preguntas frecuentes